Build your own ParkPatrol Community
ParkPatrol appeals to students, employees and residents. When starting a campaign think in these terms and post ParkPatrol posters and flyers accordingly. With a little effort you can build informal groups that quickly achieve accurate parking enforcement reports. Start a campaign now. Select a flyer below, target a community and make a ParkPatrol force.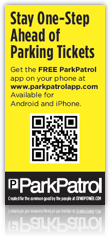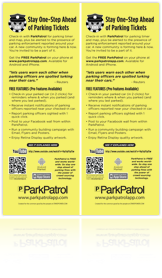 Free Flyers. Cheap to print and easy to distribute for a simple but effective campaign! Post these flyers in
your elevator,
the student union,
your employee break room,
the local cafes where you live.
Drop them into mailboxes, slide them under windshield wipers, post these on Facebook, or email them around.
One sheet has 2 flyers that are simple to print in your office or at home or have printed in a shop. Alternative languages are available upon request.
Download the ParkPatrol Plain Paper Flyer A4 or [US Letter]
or buy ready-made flyers from Zazzle.com.